AFL stadiums, fields and ovals on FourSquare
I've been obsessed with foursquare for about a month now.  I love it because I like the idea of earning things, like badges.  It gives my social media experience more meaning as a result.  (It doesn't really, I just think it does because I've earned these badges.)  In May, I shall be seeing an AFL game in Canberra and I really want to check in to the stadium because yay! More checkins.  This peaked my curiosity as to how many people had already checked in to this venue (Answer?  None.)   and in to other AFL stadiums across the country.  Today, I got a list of AFL stadiums from austadiums and then searched for the facilities with those names on Foursquare.  Having done that, I got the following chart, which not surprisingly shows the most checkins at Melbourne based AFL stadiums.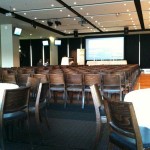 For clarification, if a line is blank and has no url, I searched for the location in the city listed on austadiums and nothing appeared. Duplicate entries appear when there were duplicates for the same location. Type includes the default listing. If no type is listed, none provided on the listing.
Apparently, Essendon was heavily promoting people checking into the MCG on Foursquare on ANZAC day so that people could get the Swarm badge. That could also account for the really high numbers of the Melbourne Cricket Grounds.
Related Posts: