The relationships between jobs in social media
Edited on February 23 to include job descriptions. Moved text on bottom to text on top.
I've been spending a lot of time thinking about the content I want to include in a three hour social media academy for people in the sport industry. (I've come to the conclusion that I may just make a number of pages that are largely unrelated, then target the contents for the people who are there, their skill levels and their needs.) One of the things I thought was important to include in such a lesson was understanding some of the jobs in social media, who does them and how they interact with others. I was looking for a chart that could explain this but could not find one so I created my own.
Not every social media connected job is on here. Graphic designer could probably be included with the web designer. User experience designer could possibly be on there, connected between web developer and community manager. The user experience designer could also be the web designer or part of web development.
In a small organization, some of these jobs probably are not needed or the organization does not have the resources for them. (Does a roller derby team need a product developer to create mobile application with social media tie ins? Probably not. Nice to have but not necessary.) In a small organization, you may also do multiple jobs.
What isn't shown here is how these jobs relate back to the wider organization that the person must also work with. That structure is probably as important or more important than the relationships shown in this chart. These relationships may change what the person's view as their primary objectives in how they handle their job. A social media manager may work with a community relations person inside a professional sport team. The social media manager may also work for marketing. The social media manager could also possibly work inside a digital content team. Mapping this is impossible because the interaction between social media and other structures inside an organization are dependent on that organization's goals.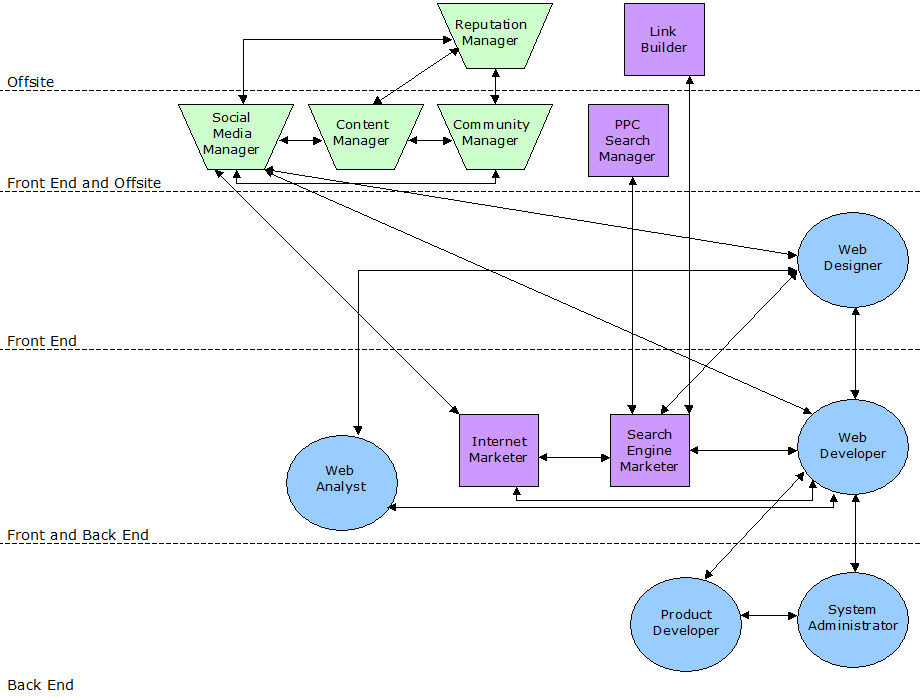 The following contain social media related job descriptions.
Community Manager: The person who manages a community on a mailing list, social network, wiki, etc. The purpose of the community manager is to help grow the community, and to keep the existing community happy and active in line with organizational objectives. This work may be done solely in house on a company's own sites or may involve community management on external sites such as Twitter and Facebook.  It includes tasks such as moderating user content, and providing feedback about user views to others inside the organization.
Content Manager: The person who creates and publishes content online related to the organization.  This content is created to fit with the organization's objectives.
Link Builder: A search engine optimization person who tries to get inbound links for the organization's site.  These links should be rel=follow.  Many of these can be found on social media related sites.
Product Developer: The person who helps develop online tools like Facebook applications, mobile phone applications and social media widgets. Developer needs programming skills in languages like perl, ruby on rails, and php.
Reputation Manager: The person who monitors social media for an organization and then, in conjunction with other departments, implements a strategy to deal with various types of reputation related issues.
Search Engine Marketer: The person who improves a site's backend in order to optimize search traffic, plans and implements campaigns to optimize a site to get search traffic for certain keywords related to an organization's objectives, buys links and buys advertisements on search engines related to specific keyword searches.
Social Media Manager: The person who implements an organization's social media plan, including tasks like building the organization's brand, improving traffic to the organization's website, manage social media accounts on sites like Twitter and Facebook, coordinates with other people in the organization to accomplish organizational objectives.
System Administrator: The person who manages the backend, the servers for a organization.  They also install software and keep all the computers running.
Web Designer: The person who manages a website's front end.  They design the look of the site, work on integrating social media into the site's look.
Web Developer: The person responsible for integrating a website's front end and back end.  They make sure any software to be installed will work.
Related Posts: