The Melbourne Storm are a member of the National Rugby League, having joined in 1998.  This post will look at the size and location of Melbourne Storm the community on LiveJournal and its clones.
LiveJournal is the most popular service, easily beating out all the clones with 25 people listing the team as an interest.  (There are no communities dedicated to the team though.)   Dreamwidth is the second most popular service with two users.  Blurty and DeadJournal come in third with one user each.   There are no fans on InsaneJournal, Inksome or JournalFen.  CrazyLife appears to be down so no numbers can be found there.
For this community, the blurty and DeadJournal fans are not active on the service: Neither have updated in the past 200 plus weeks.  On Dreamwidth, one updated in the last week and one last updated 34 weeks ago.  On LiveJournal, seven updated in the past week, seven have updated in the past six months, ten haven't updated in the past year and a half and one has never updated.
When combined, eleven of the twenty-nine users have listed their year of birth.   The average year of birth was 1984.45, with a median and mode year of birth at 1985.  Twenty-six of the twenty-nine list their country of residence.  Unsurprisingly, all are from Australia. Thirteen are from Victoria, seven are from New South Wales and three are from Queensland.
From LiveJournal and its clones, I've collected data on the distribution of fans of the Melbourne Storm,  Brisbane Broncos, Balmain Tigers (defunct), Cronulla Sharks, North Sydney Bears (defunct), and St. George Dragons (defunct) based on listing of the team as an interest.  The following chart shows the comparative distribution of fans of the aforementioned teams on LiveJournal and its clones.  It might be a bit hard to tell from this chart but Queensland has 25 people total, New South Wales has 20, Victoria has 15 and the ACT has 7.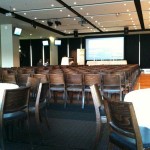 The Storm dominate in their home state of Victoria. They take a majority in New South Wales but are largely absent from the ACT.  This is some what surprising as the Storm are supposed to be the
second most popular team
in the league and the ACT is a melting pot of people from all the other states.
Related Posts: