This post was made using some of my existing data and data that I've gathered tonight in order to give a bit of perspective to the interest level in paralympic sport online in Australia. I have Alexa data but, unlike Facebook and Twitter, I have a lot of it. I'll put this into a separate post tomorrow morning. I don't have Foursquare data sadly as I don't have an events list that includes paralympic events. I also don't have eBay.com.au data.
Facebook
I've never really looked at Facebook and Australian sport before but I added Australian Paralympic Team to my list for future monitoring. It currently has 480 people who are fans of it. To put this into perspective, of the official Facebook accounts I follow, the Paralympic Team is close to the Cairns Taipans, an NBL team, who have 470 fans and the Sydney Bears, an AIHL team, with 503 fans.
Facebook provides some public data about total numbers of people who list certain interests on their advertising page. I got this information on March 5, 2011. It says that 320 Australians list the Paralympic Games as an interest. Of these, 60 are men and 260 are female. Fewer than 20 are in high school, fewer than 20 are in university and 60 are university grads.
Twitter
On Twitter, I've been tracking only one account that I've identified with the Australian paralympics. That account is AUSParalympics. My bot that gets daily information about the total number of followers for an account stopped working on February 26 and I've yet to get it restarted. The chart below gives an idea as to the total number of followers, friends, updates and lists that AUSParalympics has had over time.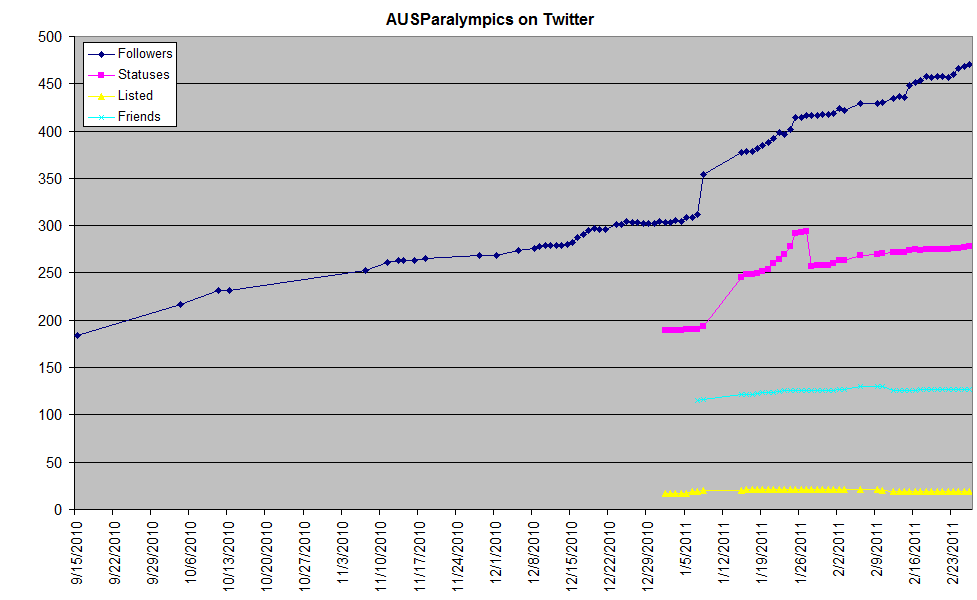 The account saw a significant increase in the total number of followers on 8 January 2011.
On 14 October 2010 and 20 December 2010, the follower information was attained for the AUSParalympics account. The list below gives an idea of their total followers by city on those two dates.
| | | | | |
| --- | --- | --- | --- | --- |
| City | State | Country | 14-Oct-10 | 20-Dec-10 |
| Sydney | New South Wales | Australia | 24 | 30 |
| Melbourne | Victoria | Australia | 14 | 19 |
| London | England | United Kingdom | 6 | 6 |
| Canberra | Australian Capital Territory | Australia | 3 | 5 |
| Brisbane | Queensland | Australia | 3 | 4 |
| Whistler | British Columbia | Canada | 0 | 4 |
| Vancouver | British Columbia | Canada | 1 | 3 |
| Adelaide | South Australia | Australia | 1 | 2 |
| Gold Coast | Queensland | Australia | 2 | 2 |
| Newcastle | New South Wales | Australia | 2 | 2 |
| Wollongong | New South Wales | Australia | 3 | 2 |
| Austin | Texas | United States | 1 | 1 |
| Bangalore | | India | 1 | 1 |
| Bangkok | | Thailand | 1 | 1 |
| Bendigo | Victoria | Australia | 0 | 1 |
| Berlin | | Germany | 1 | 1 |
| Brighton | Victoria | Australia | 1 | 1 |
| Campbelltown | New South Wales | Australia | 1 | 1 |
| Cape Town | | South Africa | 0 | 1 |
| Charlotte | North Carolina | United States | 0 | 1 |
| Christchurch | Canterbury | New Zealand | 1 | 1 |
| Dublin | Dublin | Ireland | 0 | 1 |
| Long Island | New York | United States | 1 | 1 |
| Los Angeles | California | United States | 0 | 1 |
| Manchester | England | United Kingdom | 1 | 1 |
| Manly | New South Wales | Australia | 1 | 1 |
| New York City | New York | United States | 0 | 1 |
| Nottingham | England | United Kingdom | 1 | 1 |
| Ottawa | Ontario | Canada | 1 | 1 |
| Paris | | France | 0 | 1 |
| Queanbeyan | New South Wales | Australia | 0 | 1 |
| Seattle | Washington | United States | 1 | 1 |
| Vienna | | Austria | 1 | 1 |
| Washington D.C. | | United States | 1 | 1 |
| Wellington | Wellington | New Zealand | 0 | 1 |
| Cornwall | Tasmania | Australia | 1 | 0 |
| Denver | Colorado | United States | 1 | 0 |
| Docklands | Victoria | Australia | 1 | 0 |
| Gosford | New South Wales | Australia | 1 | 0 |
| Maroochydore | Queensland | Australia | 1 | 0 |
| Mexico City | | Mexico | 1 | 0 |
| New Delhi | | India | 1 | 0 |
| Redfern | New South Wales | Australia | 1 | 0 |
| Sheffield | Tasmania | Australia | 1 | 0 |
| Tokyo | | Japan | 1 | 0 |
| Wantirna South | Victoria | Australia | 1 | 0 |
Related Posts: