The ANZ Championship replaced the Commonwealth Bank Trophy as the premiere netball championship in 2008. There are ten teams in the competition, five from Australia and five from New Zealand.  They are:
Waikato Bay of Plenty Magic
With the exception of the Melbourne Vixens, no one lists these teams as an interest on Facebook.  The New Zealand based teams also lack a fan base inside New Zealand's Facebook community. The Melbourne Vixens have 840 people listing them as an interest on Facebook.  I've looked at some of the segmentation of this audience and generated the following data which can give you a better idea of the fanbase for this netball team that actually has a fanbase on Facebook, as determined by people listing them as an interest.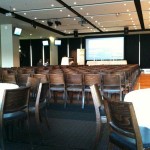 One of the things that surprised me in this little data set is that for fans aged 40 to 49, most of the fans are male.  I'm not sure why this is.  Female fans of the team also look to be overwhelming heterosexual.  For a female sports team, this does surprise me a bit as I would have thought that the percentage would have been a little higher.  The fanbase also appears to be a bit older: High school athletes do not appear as interested in the team, which suggests interest in the team may develop as fans get older and are less likely to participate in the sport themselves.
Related Posts: