I've not really spent much time looking for fan communities for Australian sports teams on Facebook.  This is for a couple of reasons.  First, the data from Facebook's Advertising Target Selection is often subject to wild fluctuations in the course of small periods of time.  In the case of one search, there was a 200 person drop in ten minutes on a sample size of about 3,000.  That's pretty significant and calls into  question all the data.  The second reason is that it is hard to get data out of Facebook's Advertising Target Selection.  For LiveJournal, bebo and blogger, I might not be able to get all a user's info but I have enough that I can easily tell you that the average Northern Territory fan of a team is this age.  I can identify specific individuals and in some cases make educated guesses about the reliability of the data.    With Facebook, all I get is a number based on the selection.  If I want to find out how many female fans there of the Brisbane Lions from Queensland, I have to make a number of selections to get that number.  (But I only get that based on city for Facebook, not state.)  If I want to find out how many male fans there are, I have to go back to Facebook and make another series of selections.  I can't do that with in the context of my own data set compiled / exported from Facebook.  This makes it really impossible to compile a complete listing of data in a timely manner.  If I want to find out how many 18 year olds are fans of the Canberra Raiders, I have to make that selection one at a time.  Aggravating.
Still, I wanted an idea of what is going on with Australia's sports fandom on Facebook in terms of location and demographics.  What I thus have is a load of random data.  (Random data is random.) I tended to focus on cities and teams, with both chosen mostly at random. I can't find an easy way to display or map this so the table is located below for you to look at.
Before that, some things I found interesting in this data:
Brisbane Roar's male fans are double the amount of their female counter parts.
Brisbane Roar fans also to be single with 420 married compared to 180 married.
The Perth Wildcats don't have a fanbase in the Northern Territory or Tasmania.
Queensland Maroons have 40 fans in Rockhampton, Queensland compared to the 8,100 fans they have in Sydney.
New Zealand's Canterbury Crusaders have the same fan community size, 80, in Sydney as the do in Cranbourne.
The Melbourne Vixens are the only netball team to be listed as an interest from the Tasman ANZ Championship teams.
St. Kilda is more popular than the Sydney Swans in Adelaide.
Essendon Bombers are more likely to be college graduates than currently in high school.  At least for those on Facebook.
In the AFL, the Essendon Bombers are more popular than the Geelong Cats, Hawthorn Hawks, North Melbourne Kangaroos, Richmond Tigers, St. Kilda Saints, and Sydney Swans for all Australians on Facebook.
The Adelaide Crows are more popular in Brisbane than in Perth.
Between the Perth Wildcats, Parramatta Eels, St. Kilda Football Club, Penrith Panthers, South Sydney Rabbitohs , Sydney Swans, and Wests Tigers, the mot popular teams in Hobart is St. Kilda with the Sydney Swans coming in second and the Parramatta Eels coming in third.
Darwin only has 4,360  people from the city on Facebook.  Between, Cronulla-Sutherland Sharks, Gold Coast Titans, Geelong Cats, Perth Wildcats, Hawthorn Hawks, Newcastle Knights, Parramatta Eels, St. Kilda Football Club,South Sydney Rabbitohs, and Wests Tigers, no teams has more than 20 fans in the city and the 50 mile area around it.
In Perth, the Perth Wildcats are more popular than the Perth Glory.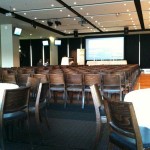 Edited to add on January 9, 2010: I normally tried variations of a team's name for Facebook to make sure I get the highest number.  In the case of St. George Illawarra Dragons, I goofed and got the one that listed 240.  When I used St Geoergillawarra Dragons combed with St. George Illawarra Dragons, I got 9,200.  This change will show up in any future data analysis.  The collection date has always been changed to today just so I know when I got that number.
Related Posts: