There are ten leagues in Australia and New Zealands's soccer A-League.  All teams have either an official or unofficial Twitter account.  In some cases, there are multiple accounts dedicated to a team.  Below is a list of some of the accounts sorted by team:
If you want to easily follow these accounts on Twitter, you can do so by following my ozziesport's A-League list.    This list was compiled by looking at the A-League related lists on Twitter, finding where teams were listed.  It is an attempt to be as comprehensive as possible.
These Twitter accounts have various levels of activity.  Many are interactive, where the accounts reply to people or retweet others.  The interacting with followers seems to be more noticeable on fan run accounts.
The team with the most account dedicated to them is the Melbourne Victory, with five. Next is the Sydney FC with three.  After that, you have Adelaide United, Brisbane Roar and the Central Coast Mariners with two.  Last, you have Gold Coast United, New Castle Jets, North Queensland Fury FC, Perth Glory and the Wellington Phoenix with one account each.
The following chart shows the number of follows for each account sorted by total number of followers.  These numbers date to January 5, 2010.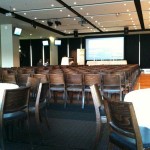 When these numbers are correlated with the 2009-2010 average match attendance, a somewhat meaningful correlation of .405 is found.  This may suggest that interest in following the team on Twitter correlates to match attendance and that teams could and should focus on getting followers.  A much stronger correlation of .940 exists between the total number of Twitter accounts dedicated to the team and their attendance.  This appears to suggests that large attendance leads to an active and strong fan base for Australian soccer.
Related Posts: