I finally finished compiling a list of LiveJournal and clones users who list various teams as an interest. The issues in doing this and other maps have been discussed in earlier posts. Not all cities are picked up by the software, not everyone lists the city they live in are two of the big ones. People can list multiple teams in the same league as interests (and thus be counted twice) or the same team as an interest across multiple clones (again, counted twice).
While teams from many leagues were looked at, not all those teams had people listing them as an interest and where the individual listed their city of residence. The following leagues did though: AFL, AFL Canberra, A-League, ANZ Championship, First class cricket, NBL, NRL, NSW Premier League, Rugby League/State of Origin, Super 14, and Victorian Amateur Football Association. To make the map more readable, some of the least represented leagues were left off the map.
The following map was created using MapPoint: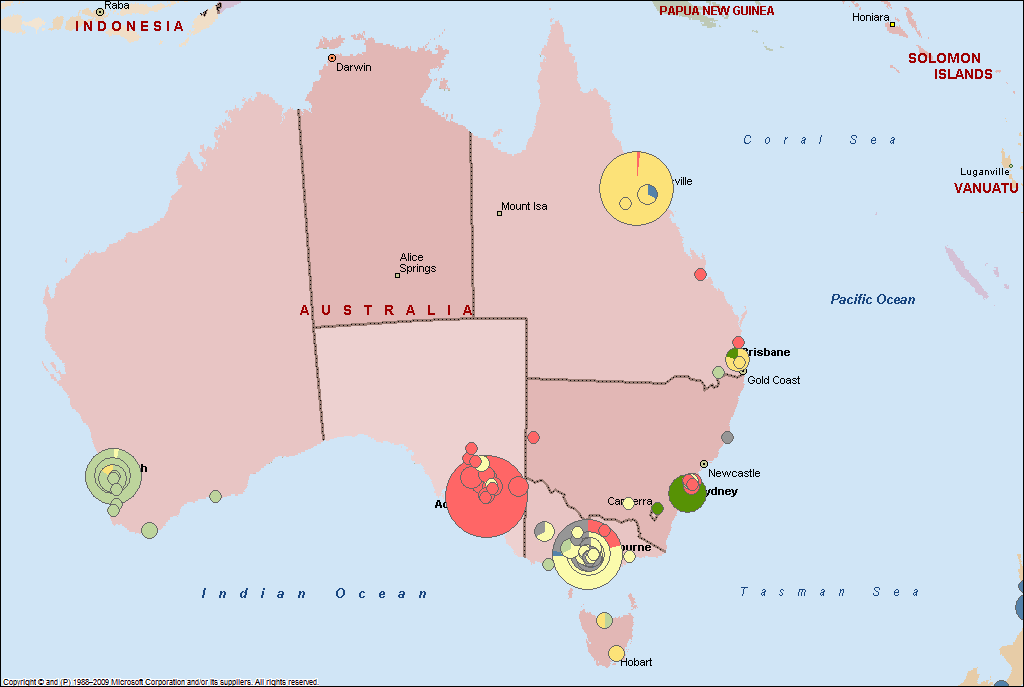 Play by City


| | |
| --- | --- |
| | 220 |
| | 15 |
| | 1 |
| | AFL |
| | A-League |
| | NBL |
| | NRL |
| | Super 14 |
The map clearly shows a geographic preference in New South Wales for the NRL.  Victoria clearly prefers the AFL.  The rest of the country tends to also support the AFL.  The pattern of geographic distribution for fans of these leagues appears to fit patterns I have seen described elsewhere.  It will be interesting to see if these patterns hold for bebo.
Related Posts: